Spotlight
Save the Date
Market Day is coming Preview Party, May 6, 4:30-7:30 p.m. Market Day 2016, May 7, 8:00 a.m.- 2 p.m.
Best One Yet
Summer Nature Camp Registration Is Open.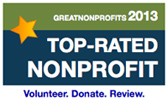 Nature
Enjoy the 207-acre public greenspace featuring gardens, tree collections, and over 3 miles of woodland trails.
Education
Visit our Nature Museum and attend events to learn about Cylburn and the natural world.
Community
Connect with nature, culture, and history in Baltimore's largest public garden! Get involved by becoming a member, attending programs, and volunteering!